Brexit Preparations Checklist
Image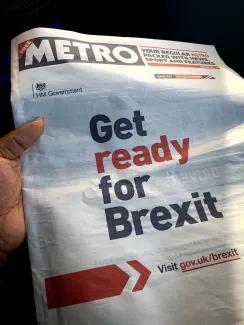 The Brexit is a subject that has been discussed a lot and even more is written about the upcoming exit of Great Britain out of the European Union. We at Customs Support also keep you informed of all developments. We have collected all the news for you on our #Brexit page.

With the deadline of 31 October insight, we want to inform you with a special Brexit step-by-step plan. If you follow this step-by-step plan you will be well prepared when the United Kingdom actually leaves the European Union. We have divided the step plan into 18 steps. If you have any questions about this plan or would like help with its implementation, we will be happy to help and assist you.
Step 1: Inventory
Is your company going to be affected by the upcoming Brexit?
Make an inventory of the flow of goods and sketch an overall picture to gain insight.
Step 2: Agreements 
Existing agreements with parties involved may need to be revised in the context of Brexit.
Step 3: Import license
Do you wish to transfer your own goods to the United Kingdom after the Brexit? Then keep in mind that you must have an import license.
Step 4: Authorization direct representation
Please note that already issued authorizations Direct Representation in the UK will lose their validity after the Brexit.
Step 5: EORI number
As an exporter or importer, you must have an EORI number for cross-border export or import. Make sure this number is requested in time.
Stap 6: Customs declaration
Outsourcing or in-house management? In our experience and knowledge, outsourcing is a solution. We like to help you!
Step 7: Incoterms
Which delivery conditions are currently applicable and need to be adjusted?
Step 8: Data
The correct classification of goods determines the legislation & regulations during import and export. We like to think along with you so you can benefit from our expertise.
Step 9: Education (CST)
Investing in customs knowledge is a strategic move. A reliable partner of ours is CST Nederland, the specialist in customs training and education.
Step 10: Excise
Excise goods that are now done within the EU with an EMCS declaration will be subject to an import and/or export declaration after the Brexit.
Step 11: VAT
After the Brexit, it is important to prove the import/export for deliveries from the EU to the UK through import or export declaration.
Step 12: License Art.23 Sales tax law 1968
If you import goods from a non-EU country, VAT must be paid upon import. If you wish to pay this VAT via your monthly declaration, you must apply for a license under Article 23 from the Tax Authorities.
Step 13: Charges
The levying of import duties may apply to certain products after the Brexit. We are happy to determine the amount of import duties for you.
Step 14: Food
After the Brexit, meat, fruit, vegetables and other foods can be subject to all sorts of requirements and measures in the UK and upon entering the EU.
Step 15: Licenses
After the Brexit, an AEO certification can also be important for your company and offers many benefits. To be eligible for an AEO status, you must meet various requirements.
Step 16: Proactive
Regardless of which point of view you are dealing with the Brexit, it will have consequences for all kinds of logistics. Make sure you have a good plan that takes into account customs requirements and possible IT solutions.
Step 17: IT solutions
Data exchange, safety, reliability and speed will all play a role after the Brexit. We offer various solutions in the field of automation and data efficiency.
Step 18: Advice
Have a sound plan and be well prepared. Make an appointment with Customs Support in time if you are looking for sound knowledge and advice regarding customs formalities for the Brexit.
For questions or advice you can always contact us via the email address: brexit@customssupport.com. You can also contact us in other ways, our contact page can be found here.