The port of Rotterdam presents 5 steps to get cargo through ports
Image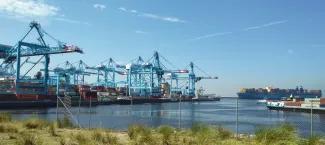 The extent to which customs processes will change after the transition period ends December 31st is not yet known. One thing is sure: there will be customs checks for cargo going out to the United Kingdom and coming in from the United Kingdom and vice versa for the UK side. All shipments will need to be accompanied by customs documents. For some companies this can mean a completely new process, for companies that trade globally, it's only a new country that requires documents.
5 Steps to Get Your Cargo Through Dutch Ports
A lot of cargo moving between the European Union and the United Kingdom is shipped via the Port of Rotterdam. New customs processes impact both the port and the companies using it. The Port of Rotterdam has issued a press release announcing that it is well prepared and ready for Brexit. 
As ready as the Port of Rotterdam is, there will still be a lot of delays in the Port if the companies shipping cargo through it aren't equally prepared. This is why the Port of Rotterdam is presenting 5 steps to get your cargo through Dutch ports, after Brexit.
Step 1 - Register with Customs
Make sure you have an EORI number. You will need this number to communicate with the Customs Authority.
Step 2 - Who Handles Your Import and Export Declarations
Some companies have trained and experienced people in-house that can create and process customs documents.  Some will not have the knowledge. They are advised to use a company specialized in the handling of customs matters. Make sure they are AEO Certified.
Step 3 - Determine Who Will Handle the Pre-Notification of Customs Documents
After Brexit, when you are shipping through any of the short sea or ferry terminals, it will be mandatory to send a pre-notification of your shipment to the Port of Rotterdam via Portbase, Make sure it is clear who will handle this.
Step 4 - Subscribe to the Portbase services
If you digitally pre-notify the Port via Portbase you can track your shipment in real-time.
Step 5 - Make Sure the Terminal Has the Right Customs Documents
If your shipment is not accompanied by the right paperwork it will not be allowed to leave the port. It is important to make sure all necessary documents are sent with the pre-notification.
Customs Support can handle the pre-notification process for you and takethe load off your mind.
Make Sure You Are Fully Prepared for Brexit
Customs Support has created a checklist to help companies prepare for Brexit. The 18 step checklist covers all bases and makes sure companies are well prepared for exporting and importing to and from the European Union and the United Kingdom. You can find the checklist here.
Photo credits: Martijn Rijk - Private collection