Meet Our People: Carlotta Bugamelli
Image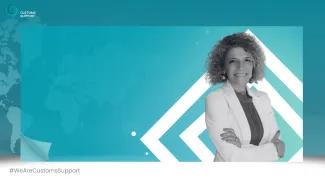 Welcome to our exclusive "Meet the People" series, where we take you behind the scenes to meet the dedicated individuals powering Customs Support. These passionate professionals play a pivotal role in ensuring the success of our mission: empowering your global trade.
In this edition, we are excited to present Senior Consultant Trade & Customs Carlotta Bugamelli – our export compliance specialist from Customs Support Italy.
Join us as Carlotta shares her insights on customs consultancy for business, collected over a long career of more than 20 years. 
Who are you?
I'm Carlotta Bugamelli, a consultant for customs and international trade for more than 20 years. I am enrolled in the National Customs Advisors Register and certified as anExport Compliance Officer.
My free time is dedicated to my family, sports and my hobbies. I have two wonderful sons and have been happily married for 20 years.
My profession has always been central in my life. I like learning and using what I have learnt to find solutions for those who have problems or complex situations to solve.
My interest in law has made me believe that true success is turning my knowledge into adequate solutions for clients. I am here to help enterprises to avoid claims, violations, reputational consequences, and other unpleasant penalties that can arise out of a lack of compliance.
I was hired by Customs Support Italy in September 2022 as the national consultant manager, after many years working in a similar position with a smaller organisation.
Outside of Customs Support, I have an official role as President of the Export Control, Dual Use and Embargo Study Commission of the National Council of Customs Advisors – a position I have held for a few years now and which I'm very proud of. This commission is composed by very qualified colleagues.
My goal within Customs Support was to build and is now to manage a national team of qualified consultants able to support businesses in the complexity of regulations related to international trade.
What does a senior consultant for trade and customs do?
My specialisation is export compliance, providing all-round guidance and support to companies operating in the international market. My professional experience has taught me that clients need to be protected, to be guided in their specific context in facing the challenges that the international market holds for them. This is the role of a senior consultant.
Prevention is the best approach for avoiding violations, penalties and financial losses. My team and I help our clients with their processes, implementation and management to be compliant with trade and customs regulations.
What's next for the consulting team in Italy?
I have worked in consulting fora long time, and have in-depth knowledge of customs and trade, but it is not enough on its own. I have always thought that the strength of the team is the winning element. A team of people with different qualifications and experience that can satisfy every need.
For this reason, I'm growing the team, maintaining a high level of knowledge, competence and professional approach, activating synergies in the Italian and European context of Customs Support.
The goal for my team is clear: consulting must protect business, strengthen their internal organisation and keep them compliant. At the same time, we must be able to simplify/optimise processes and provide clients with greater benefits from the application of legislation.
Going forwards, together with my Italian and European colleagues, I would like to be able to not only give more to existing Customs Support customers but also serve thewider market with the in-depth consulting support and high quality customs services that're needed
Also, for Customs Support, a neutral provider of customs focused on internal compliance, it is really important our customers are compliant. Thanks to the professionalism and high standards of our consultants, we can lower the risk of violations and penalties.
What are the biggest changes you've seen in customs consultancy?
The role of the consultant has changed, particularly over the last decade. We used to mostly represent companies and advise them on how to approach their import and export clearances, but our role in preventing violations has now grown significantly.
Consulting is now a channel for businesses to meet increasingly important objectives in their supply chains:
Compliance

Reliability

Risk management

Due diligence and best practices

Adequate management of goods flows

Knowledge of the markets and of its customers and suppliers

Optimisation of inside control processes, better internal organisation of the company and of its foreign branches.

Traceability of information and documentation

Management of contracts and clauses
Advice on customs and international trade is broad and related to different and complex topics. This is why I am developing in Customs Support Italy a team of qualified people, each with different qualifications and a great desire to learn, develop themselves and give solutions.
The combination of knowledge, experience, and the right approach to management and objectives are fundamental to providing a complete package of consulting services.
Another important change in the last few years is digitalisation in customs, which today's consultant must keep pace with.
It is possible to increase efficiency and mitigate risk, thanks to the digitalisation and simplification of processes, such as when using EDI connections. In any case, processes are complex and regulations are continuously updated, so our support is even more relevant today.
What should a customer look for in a customs consultant?
Competency across all the main issues which relate to international trade. It is no longer enough to have specific competence in one customs area as so many different regulations now inevitably influence the customs processes and trade. For example:
Trade policy measures, as restrictive control regimes.

Rules about "made in", and other regulations surrounding labelling.

Free Trade Agreements

Third countries Regulation - i.e. Export Administration Regulations (EAR) of the USA.

Incoterm

s

and other legal clauses inside contracts

CE Marking
These aspects must be known about and acted upon at the right time, with the right risk approach.
A customs advisor needs the competence to support business with expertise in both the relevant customs topic andthe surrounding topics involved in international trade. Our longtime experience in customs and our relationships with the supervisory authorities are also very beneficial.
You are part of a Europe-wide network. If you were to visit a country of Customs Support, where would you go and why?
I have already been in Netherlands and I've met my European colleagues. I enjoyed staying with them. I would like to collaborate more with all of them.
What I would like to do especially is stay for a period of time with Dutch colleagues in Rotterdam, and also visit my colleague Nicola in the UK. Nicola and I share similar passions as long-term customs consultants, and I would like to see her properly and work together more.