Customs Support welcomes SPTT to the family
Image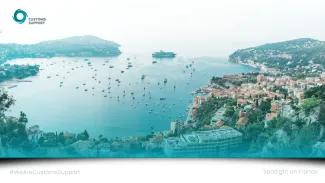 We are happy and proud to announce another French addition to the Customs Support Family: SPTT – Societé Phoceéne de Transport et transit. SPTT is one of the oldest freight forwarding and customs brokerage companies in the Marseille area, where it has its office just around the corner of the beautiful Old Port.
Long History and a Strong Future
In 1943 the "Societé Phoceéne de Transport et transit", also known as SPTT, was founded. They provided freight forwarding and customs brokerage services from their office in Marseille. During the 1950s, one of their customers was a freight forwarding company in Algiers. It was then that Maurice Mesguich, who worked for that forwarder in Algiers, first got into contact with SPTT.
When Maurice left Algiers in the 1960s, he returned to France and decided to buy the company that had served him so well. This was the start of SPTT under the ownership of the Mesguich family. Maurice started growing the company, with Algiers as a starting point, as this was an area he knew very well.
Like Father, Like Son
In 1980 Maurice was joined by his son Philippe. The two worked together in growing the company by offering their clients high-quality service in customs brokerage. In 1985 Philippe took over the company's reins and he has been leading it since that time.
Strong and Independent
After learning the ropes from his father, Philippe modernised the company's processes and continued the path on which his father started. The family-run business thrived and grew, but not too large. Philippe wanted the company to stay quick and agile, so it could stay flexible and respond fast to whatever its customers asked.
Like Father, Like Daughter
Enabling global trade is in the Mesguich blood, so in 2010 Philippe's daughter Cassandre joined the company. A third-generation Mesguich, eager to learn from her father's years and years of experience. Cassandre brought new ideas to the company. She initiated the process of digitalising customs processes and professionalising the marketing of SPTT.
House for Sale
Around 2020 Philippe and Cassandre realised that SPTT had grown to its limits for a company their size, while the market was looking for larger and bigger suppliers. Philippe started looking for a buyer for SPTT and came into contact with Customs Support.
Now SPTT has been acquired by Customs Support, the family-owned business is now part of the European Customs Support Family.
"Joining Customs Support is the best thing to happen to our company and the team. Its culture, approach to the digitisation of customs services, and the drive of the international teams perfectly fit our company. Although Customs Support is now over 1.500 employees, they think and act like a small company, fast and with short communication lines. It will bring us many business opportunities for clients and great career opportunities for my team. We are a well-known and solid company with highly qualified staff for our partners, shipping lines, truckers, and the customs authority, but we are also always in a good mood. Customs Support has the same vibe."  - Philippe Mesguich.
Photo by Elisa Schmidt on Unsplash